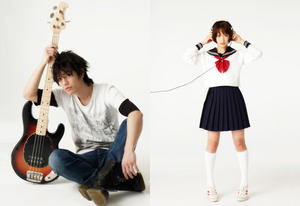 It was announced that
Takeru Satoh
will star as a 25-year-old music producer in Norihiro Koizumi's upcoming live-action movie adaptation of
Kanojo wa Uso o Aishisugiteru
. Additionally, Sakurako Ohara (17) was hand-picked from over 5,000 applicants to play the female lead, Riko.
Kotomi Aoki's original manga, which has reached a total circulation of over 2.7 million copies to date, tells the story of a highly successful, yet reclusive music composer named Aki Ogasawara who becomes involved in a relationship with a 16-year-old fan on a whim while lying about his true identity. Eventually she gets recruited into the music industry herself, causing additional complications. Meanwhile, the film will convey the troubles that arise among creative people in the music industry and offer an unique perspective on the business side of things.
Satoh previously played guitar in Yukihiko Tsutsumi's 2010 band-themed film
BECK
. This time around he'll be in scenes requiring him to play bass and realistically depict the process of composing music.
Ohara won the role of Riko by participating in last year's
audition process
, which involved submitting two pieces of original music in order to qualify. She was eventually selected by both Koizumi and the film's music producer Seiji Kameda, former bassist of the band Tokyo Jihen.
She originally heard about the audition from a high school friend who thought she'd be perfect for the role. Althrough Ohara has almost no acting experience to speak of, she reportedly has an exceptional singing voice honed through years of classical music education, earning her high praise from the people involved in the film. Satoh claims to have gotten goosebumps the first time he heard her voice and Aoki said she knew it would be Ohara as soon as she heard her even though there were a lot of auditions left to get through at the time.
Although excited for the opportunity, Ohara admits she's extremely nervous about working with Takeru Sato, who she had only seen on TV. She also has very little experience being on camera, but vowed to do her best.
"Kanojo wa Uso o Aishisugiteru" will be released in Japan in December 2013.
nipponcinema