Wu Zun (吳吉尊) ❥ Ella Chen (陳嘉樺)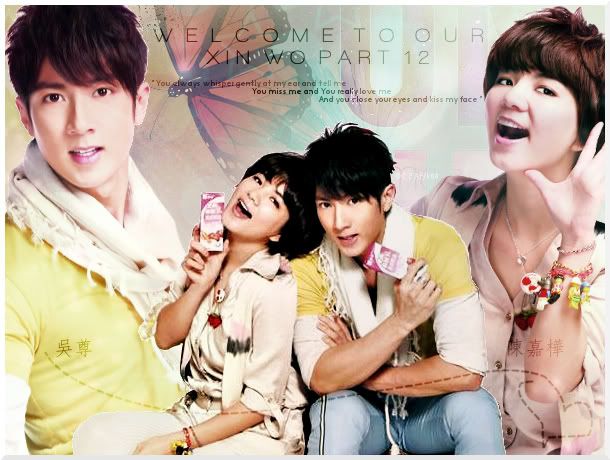 Previous Homes:

Ⓒ Ⓔ Ⓒ Ⓔ Ⓒ Ⓔ
Ⓒ Ⓔ Ⓒ Ⓔ ⒸⒺ


Welcome to Chun and Ella's Xin Wo Part 12 also known as "P-CE Kingdom"!!! Yup, yup, yup, we're on part 12 already! Congratulations to us, CE Angels! If there are newbies wanting to join us, please don't hesitate! We love having new Angels~

When joining the thread we always take The Oath. Though on my opinion that's not the only thing we do now when joining. Make sure also to get ready, fasten your seatbelt, and enjoy the roller coaster ride of CE!


The Oath

"I do solemnly declare that I am one of CE fanatics and nothing in the world could give me doubts about CE. Anyone who dismisses CE's interactions will deserve a good kicking by me"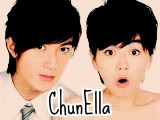 Chun and Ella first met each other at Ella's birthday party in 2005, but didn't become friends until later on. It was from that birthday party, and many other events to come, that we learned that Chun was an introvert. During this party, his attention was focused solo on the food, not on the people around him. But it was not long before the two had the chance to work together.

In 2006, the two began to work together in a drama called [Hua Yang Shao Nian Shao Nu] (aka. Hana Kimi). When filming began, the two were total opposites. Ella was hyper and Chun, being new to the entertainment industry, was quiet and shy. At first Ella kept her distance from Chun because he looked "too pretty" to her, but after a while, she began to tease him and the bud of a new friendship began. Chun's personality wasn't that of a person who would allow such teasing, so he began to tease her back.

By the end of filming, the two had become good friends. Chun had opened up more and was even beginning to tease people, just like Ella. During the promotions for HK, their friendship only strengthened; Ella was constantly teasing him about his chinese and he was constantly teasing her about her being "miss mo ka cheng." In the BTS of Zen Me Ban filming, we can see all the teasing that goes on between them because there is rarely a moment when they aren't bickering in that MV, that is unless he was too busy staring at her in her dress.

In spite of having only one drama together and just a few commercials together with their group, the two are still being linked with each other a lot of times. CE Angels are still finding many hints between ChunElla. Want to find out what are those hints? Join us then!

❥❥❥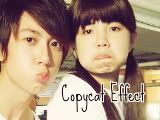 There are many reasons why we love CE. If it's not the way they constantly give out hints, it's the way they copy each other. Because the two are always copying each other, we have dubbed it the Copycat Effect of theirs. They not only copy each others expressions, but also the accessories they have; they have the same sneakers, bags, watches, braclets, rings, etc. You name it and they've probably got it.

For more examples of this, you can check out this site:

http://chunspanksella.blogspot.com/ <--thanks to summersnow@CEFC and AF

But here are a few for your eyes to feast on for now...



❥❥❥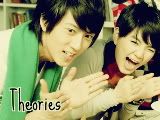 There are many theories that surround CE. One of the major ones is how we believe that the two are sharing a lot of their things. Or else the two just buy two of everything and give one to the other. Some examples of this are in the blog that I shared above by summersnow.

But here is one that involves the ring that we see hanging around Chun's neck in THIS picture. I believe that this ring is a ring that the two share because we can see Ella wearing a ring that seems to fit the design of the ring around his neck in THIS picture and maybe even THIS one. What makes it even more interesting is we've never seen Chun wear that ring around his neck on his finger, he's always worn in that way. And if you look at the Meng Niu BTS picture, you can see that Ella's wearing the ring on her finger and Chun's not wearing it around his neck.

Then if you take a look at the pictures of the two on this date [2009 Jan 11], CHUN and ELLA, you can see that Chun's wearing the ring and Ella's not.

Is this real? Whether you believe it or not is up to you. If you want to know more about these things, join us and ask!

❥❥❥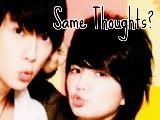 The two not only share facial expressions common with each other, they also share the same thoughts. They like many of the same things; their idol is Michael Jordan and they both like basketball. When looking at their list of criterias, they both even share almost the same thing they're looking for in their ideal partner. What's more important is they both match each other's criterias too.

Another thing thought they have in common with one another is marriage. The two are amongst the top artists that are commenting on settling down and starting a family soon. Both Chun and Ella's age for getting married and the number of kids also seem to match up. When Chun changed his plan of getting married at 28 to getting married at 35, Ella also changed her plan. Now she's looking to get married at 30 or not at all. The number of kids Chun wants is 3-5 and Ella, she has decided however many kids her husband wants. Aren't they fitting together perfectly? It's like the two talked out their plans and goals in life, which isn't very unlikely since the two are constantly hang out with one another whenever they have the time to.

❥❥❥



- Ella said in the I-weekly interview that Chun loves to ask everyone to quiet down while he lets out a fart to let everyone smell and Chun retaliated back by showing an action of using his hands placed at his back and bringing it to Ella's nose for her to smell. Ella then said that he did not let everyone smell but still let her smell, so it was still disgusting.
- During the RP period, Ella stated she had a boyfriend, naming him DJ for Dear Josh. But as we later discovered, Chun's actual English name is Jacky. Connection?
- At a promotion for Barbie Cosmetics, Chun as asked by a reporter to congratulate Ella on her relationship with DJ. Chun kept saying that he wouldn't until she, Ella, had said that the relationship was real even when she had already stated so herself. In the end, he ended up saying he would congratulate her if the news was real. But last year when reporters asked him how he felt about Mr. Sky, Angela's rumored boyfriend, he immediately congratulated her on her relationship.
- A photographer for one of the magazine shoots commented on how good CE's chemistry is. Ella would make a pose and Chun would match her pose perfectly in less than a few seconds.
- When FLH played a little Q&A game with HITO FM Radio, Chun was asked several questions, one of them being what Ella's rank in her family was. He answered that question without hesitation, but prior to that question he was asked for his own body measurements and was hesitantly answering the question.
- Ella is very observant. While drawing a cartoon pic of Chun, she drew 2 small moles on the face in the exact same position where Chun's real moles are. The moles are so small but yet she noticed it.
- During SHE's promotion in Azio Entertainment, Ella said the Chun is the co-star that she contacts the most. She also said he is a very considerate person.
- Chun admitted that Ella is her "best friend" in the e-circle. He said that Ella has the best skin and since he was endorsing Ponds at that time he said he'll recommend the product to Ella and his future wife.

(Visit our previous homes for more goodies such as a list of why we love CE and their pervy moments~)

❥❥❥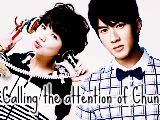 These are a compilation of all our messages for Chun. When we want to say something to him we just call his attention! We have over a hundred messages for Chun so they're all under spoiler, click to see!



Spoiler



❥❥❥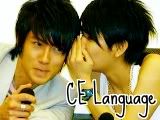 The "CE Language" refers to anything/something which describes CE in a direct or indirect way and CE Angels are the only ones who can understand them. It could be a word, thing, food, place, person, etc.

Banana - CE's favorite fruit. Chun was caught sneaking, going to Ella's room and gave a lame excuse that he was going to get a banana in her room. Ella particularly asked for a banana during shE is The One's concert in Hong Kong because she told the reporters banana can rejuvenate her strength. (zunhua1810)

Bell and Ross (B & R) - CE's infamous couple watch that up until now, both of them are wearing it. Coincidence or not, the watch was worn whenever, it's either they were too happy (Ella was in Beijing for the concert then both of them were spotted in Guangzhou the following day) or they need reassurance from each other (from the recent rumors). The B & R watch became not only one of CE's most priced accessory but it also served as one of the means in which CE conveyed to their millions of fans specifically the CE Angels that amidst the rumours here and there, promotional romance, made up relationships etc. "there is nothing to be worried about...CE will always be together..stronger than ever!!!...the B & R watch is one way to remind HER of HIM that SHE'S loyal to HIM (Mcleen, part 11/post #20). (zunhua1810 / am_starstruck2CE)

Mushroom - Ella totally loves mushroom! She has a mushroom of everything. Chun had a guesting in Da and Xiao S's show and he asked them to say "mushroom." Chun asked them again to say mushroom in a funny way then the sisters asked why. He revealed that Ella loves saying "mushroom!" (zunhua1810)

(Please click the spoiler to see the rest!)


Spoiler



❥❥❥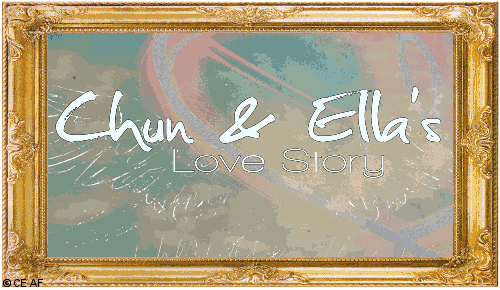 Timeline of CE
(Links for pics or vids on some events are provided)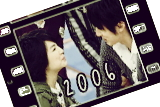 Jun - Rumors begin.
18 Jun - Ella's birthday, the two disappear for an hour.
25 Jul - HK's wrap up celebration dinner, Chun consoles Ella when she begins to cry.
12 Aug - Fahrenheit and SHE guesting on Guess Guess Guess.
18 Nov - Special outdoor preview of HK.
23 Nov - Filming of [ZEN ME BAN] MV, Chun is caught saying "sexy" several times when seeing Ella in her black dress. BTS 1 & 2.
25 Nov - HK promotion in Hsinchu.
26 Nov - HK promotion in Tainan.
27 Nov - HK cast attend "Kang Xi Lai Le", the two kiss because of a mistaken favorite dish.
28 Nov - Charity event.
01 Dec - HK cast attend "Lian Ai Bai Fen Bai" (aka. 100% Entertainment), Ella chooses Chun as her ideal boyfriend. Subbed part 1, 2, 3, 4, & 5 (i know it says, WQYL, but that's a mistake)
04 Dec - HK cast attend "Wo Ai Hei Se Hui" (aka. Blackie Show), CE were in their own little world for the majority of the show and Chun caught stealing glances of Ella.
09 Dec - HK promo in Taipei, K-Mall.
10 Dec - HK promo in Kaohsiung.
16 Dec - FLH as guests in SHE's "Yi Dong Cheng Bao" in Taiwan, Chun blushes from some teasing.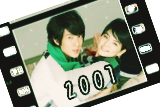 02 Jan - [ZHUAN SHU TIAN SHI] MV filming. BTS from Tank's Album 1 & 2
27 Jan - FLH as guests in SHE's "Yi Dong Cheng Bao" concert.
29 Jan - HK press conference in Singapore, the infamous smack-heard-around-spores happened. Full 1 & 2.
29 Jan - HK promo on YES 93.3 FM.
29 Jan - HK promo in Singapore, Tampines Mall.
01 Feb - Filming for Chinese New Years Special program (Summer X Summer vs. Hana Kimi), Chun was spotted nudging Ella's back/arm. Also, CHUN WAS SPOTTED HELPING ELLA BUY SOMETHING ON A STORE. Full 1, 2, & 3.
02 Feb - SHE and FLH attend KKBOX AWARD where CHUN WAS CAUGHT STARING AT ELLA.
Mar - Filming of 7-11 advertisement; SHE and FLH.
10 Mar - HK promo in Hong Kong; Chun, Ella, and Danson. CE spotted whispering to each other during airing of ZSTS MV. PIC & CLIP.
Apr - Ella accidental slip of tongue (the "It's only work" when questioned about Chun working with Angela), Chun starts filming his new show "Romantic Princess". Ella chooses Chun as her love choice on "The Blackie Show", saying: "Ah Zun Zun , I miss you so much!" and kisses his picture.
06 Apr - Filming of 7-11 advertisement; Chun, Ella, and Arron. CLIP
May - News of Ella having a secret boyfriend (DJ) start to appear. Filming and premier of [XIE XIE NI DE WEN ROU] MV, CE act very distant with each other. BTS 1 & 2
Jul - DJ news disappear, Chun finishes filming his new show (RP).
27-29 Aug - 3 day HK promotion event in Korea. Also attends the Seoul Drama Award where Chun repeatedly says how "hot" and "sexy" Ella is in her dress. CLIP
28 Aug - Chun suddenly slips about the way Ella pronounces "mushroom", even asking for Da S and Xiao S to say the word in Ella's cute way, with the expression too, while he was shooting for <Da Xiao Ai Chi> program while promoting "Romantic Princess" with Calvin. FULL CLIP (other subbed parts from that visit: TALKING ABOUT ELLA (<--notice how much he's got to say about ella, but when they talk of angela, he gets all quiet and calvin takes over. lol) and MUSHROOM part (subbed))
06 Sep - CE spotted at a basketball game in Taiwan, the two are talking non-stop till Ken, who accompanied them there, had to make way for their talking.
25 Nov - Filming of [Xin Wo] MV. Yahoo BTS 1 & 2 (there are more BTS clips).
01 Dec - FLH as guests in SHE's "Yi Dong Cheng Bao" concert in Malay, Ella posts up a picture of her and Chun holding the jelly cake version of them.
02-06 Dec - SHE and FLH in San Ya, Hainan Island for a filming of an advertisement.
18 Dec - Premier of [XIN WO] MV.

12 Jan - Wild Day Out event in Hong Kong, Chun points at CE sign?
15 Jan - Meng Niu press conference, Chun leans very close to Ella in the group photo. FANCAM 1. (more)
30 Jan - Chun guests on an episode of [Nu Ren Wo Zui Da], first time calling Ella his "di di." Before calling her that, he also was the first to quickly say her name as her picture was being shown (which he had not done for any of other girls' pictures) and answered "dui" for the question "She's cute, right?"
04 Feb - MN interview on [Zui Jia Xian Chang] with SHE and FLH, Chun passed over Hebe to do a handshake with Ella even though Hebe was sitting right next to him. Also, during BTS, Chun being protective and trying to point out how her shirt collar was a little low!? Interview 1 & 2. BTS.
1 Mar - Hito awards. CC and SHE perform XW, CE share many glances between each other. CLIP
24-27 Mar - Filming of another MN CF in Hainan Island.
1 May - Super Supau handshake event, CE as endorsers. Part 1, 2, 3, 4, 5, & 6. (more)
6 May - Rumors swirling around CE, stating that CE once dated for 1 year plus.
18 Jun - Ella's birthday; Chun spotted at the airport, rushing back to Taiwan with just 10 minutes to spare before the day of Ella's actual birthday.
21 Jun - Chun told reporters that he does not care what others say about Ella and him. They are really good friends, he even called her on her birthday and whenever the both are free, they go out to eat together.
Jul - RP promotion in the Philippines, Chun and Calvin. Chun comments on HK and says how "Ella is his girlfriend...in HK," with "in HK" as an after thought.
16 Jul - Appearance of Ella and Baron Chen rumors. Was reported that Chun became the unlucky scapegoat and the person in the Apple Daily article was actually Baron and not Chun, but Ella quickly denies the rumors she has with Baron. Chun denies the rumors of him and Charlene, co-star in Butterfly Lovers, dating for three months, but otherwise stays neutral.
Aug - BL wrap up, more rumors of Chun and Charlene, though these rumors are quickly squashed when BL promos are over.
31 Aug - HK promotion in Japan; Chun, Jiro, and Danson. Chun says "oishi" (delicious) when watching the scene of him and Ella kissing.
16 Sept - [Suan Tian] MV VERSION 2 is released, Chun caught stealing glances in Ella's direction in the MV. BTS 1 & 2
Sept-Nov - Meng Niu Concerts. A lot happen during these 7 concerts; Ella teases Chun, Chun flicks Ella's hair (@ 2:18), etc.

5 Jan - New Meng Niu CF and BTS
13 Jan - CE attend HIM end of the year party - the two disappeared together towards the end of the event?
Feb - Articles of Chun going house shopping appear, most relate back to Ella because Ken, Ella's sister's boyfriend, was tagging along with him - Reporters say Chun is buying a house for himself and Ella.
11 Feb - CE rumored to be in a new drama (Parfait Tic)?
18 Feb - Chun shows his undies at a FLH event and reveals that he names his undies too, and that undie just so happens to be "Hong Yun Dang Tou," the same name Ella used to name her undie that she spoke about at the Singapore HK press conference event.
20 Feb - Chun's Super Supau event - comments on the rumor: he's not sure, but hopes to work with Ella again.
22 Feb - New Meng Niu BTS released, STRAW edition.
15 Mar - SHE & FLH film new MN CF. BTS 1 & 2 <--must watch!!
21 Mar - SHE act as DJs on Pop Radio Station. Ella mentions Chun several times (unsure about how many times, but at least once). @ 47 mins, Ella speaks of Chun and his pronunciation problems. [quote from babyval22: She was talking about Sandy Lam(Lin Yi Lian) then Ella said that Chun called her Lim Yi Lian. haha~ and she mentioned that that incident left an impression on her. lol~]
1 Apr - SHE go to a school to help sponsor children education [Bread of Love], one of the little girls asks Ella whether she has kissed anyone and Hebe teases her by bringing up Chun. CLIP
27 Apr - Meng Niu Radio Music Award, SHE and FLH attended; Chun teased Ella about her height, saying how she was still short even when wearing four-inch high heels...earning himself a punch in the chest. NEWS CLIP FULL (@0:36, pay attention to @1:36, and also note how excited he gets when his seniors (SHE) and junior (yoga) comes) & HQ EXCERPT of teasing with subs.
28 Apr - News of only CE losing their luggages when traveling with others.
8 May - New MN CF released, not a lot of CE interactions. CF & BTS 1 & 2
30 May - Chun asked about Ella and Jerry's rumors, his response: [He laughed and said that no matter who Ella worked with, she'll be on very good terms with them].
25 Jul - SHE and FLH perform at the Mobile Festival Concert in Xi'an, Shanxi Province, but separately?
20 Aug - CE attended a private Nike "The IAM1 Journey" exhibition for VIP members, several pictures:: 1, 2, 3, & 4 <--CE are only in the same shot in pic 2.
22 Aug - SHE and FLH performed at the same concert in Beijing, but didn't perform on stage together. According to fans at the event though, Chun looked happy when he was staring at the CE signs that they had up.
10 Oct -SHE wished Chun a happy birthday through a VCR. And Chun had this sweet, shy smile on his face. CLIP and PIC OF CHUN WHILE WATCHING ELLA
31 Oct - During an SHE concert in Shanghai, Ella said "Thank You CE" at the end of it? (@ 0:23)
20 Dec - On an interview at China Mobile Awards, the host asked SHE where would they be on ChineseNewYear. They answered at home but Ella added it will be good to bring other half to meet parents. The host gave her choices on whom she would bring, when the host said Won Bin Ella immediatelt said Won Bin and then Selina said Wu Ji Zun and Ella ptted Selina. Translation | Clip
28 Dec - Chun attended the Human Charity Foundation. During the interview he was asked about the ring pendant in his necklace and if he have a girlfriend. Chun was very clever, instead of answering he just avoided it and said "your question is very good" Clip | Translations
31 Dec - SHE & FRH attended 'Taipei City, The Most HIGH New Year's Eve'. Though the two groups didn't perform together. But like we always, CE in the same venue/event is already enough.

05 Jan - SHE & Fahrenheit went to GuangZhou to film the next Meng Niu CF for four days. It was also reported that Chun's father was in GuangZhou at that time also.
13 Jan - Jiro said he wants to draw a Q-version (cartoon) of him, Chun and Ella on her(E) hand (or maybe the truth is he only wants to draw CE on Ella's hand xD) CLIP (TRANS ON DESCRIPTION BOX)
22 Jan - During the presscon of [SHE Is The One - Malaysia], the MC asked SHE if it's possible that they'll sing a Malay song in the concert. Ella said it's impossible and she only knows a few lines from some folk songs. The MC suggested that she could look to Chun for lessons and Ella asked in return "Doesn't Wu Chun speaks Brunei language instead?" only to reliaze that Brunei's Malay and Malaysia's Malay are fairly similar. Ella declined the suggestion and said "Wu Chun should be busy"
02 Feb - In an exclusice interview of Chun, he said that Ella is a candidate for being his girlfriend. He said that Ella is a caring and responsible girl. He also added that "because i don't like girls who are pretentious, being a little innocent would be better, she would then be willing to share with me anything."
02 Feb - In a BTS of Down With Love, Zhang Shan Wei (a friend of Ella) teased Ella about her liking guys with bigger muscles. Ring a bell, huh? Anyone you know with big muscles, well-trained, and have a fit body? *wink wink* (@ 2:45)
13 Feb - During a radio program where FRH were the DJs, Chun and Calvin reenacted Jack and Rose (of Titanic) and said "Chun: You jump - Calvin: I jump". If you can remember Ella & Selina acted as Rose and Jack also during the 2008 HITO Awards BTS and Ella started the "you jump, i jump" thing. CLIP
24 Feb - In an interview of FRH, they were asked what girls they like. Chun said it doesn't matter if she's gentle or not. The important thing is she is herself. If she wants to be rough, she is. If she wants to be gentle, she is. Then Jiro said, So, in the entire entertainment industry, who is able to fulfill this criteria, Wu Zun? (ELLA! lol XD)
25 Feb - A news about CE. It contains lots of hints about CEs relationship. TRANSLATED NEWS
01 March - Release of new Meng Niu CF and BTS. Not much CE interaction. CF | BTS
March 10 - Release of the new Meng Niu BTS. Just the same but a longer version. CLIP
March 11 - Wu Zun shares his thoughts about Ella's new look. He said that Ella asked for his opinion and he told her bluntly that "her androgynous look that she had previously looks better". Translation
April 07 - In a program where SHE were guest they showed clips from their previous dramas. When the "monster kissing scene" from Hana Kimi was shown, Ella felt really shy, ask them to "change the channel" and even turned away from the screen! CLIP
May 11 - Meng Niu released a new, very unexpected commercial. CE as the lead! CLIP
May 22 - In a recent interview of SHE, Chun was brought up twice. Ella said that he`s the costar she contacs the most, he`s very considerate, and after a long time, we finally heard her say "Ah Zun Zun" again! CLIP 1 | CLIP 2
June 03 - New CF from Meng Niu. CE as the leads again!!! CLIP
June 21 - A new CE fan visited Chun on set a few days ago. She manged to glimpse inside Chun's bag when he was taking a "fan" that the other fan gave to him. The new CE fan saw a picture of Chun and a "short red haired" inside his bag. Who could be that short red haired girl huh? Hint: E-L-L-A MORE INFO
June 28 - In Chun's Ponds Event at GuangZhou, he took the initiative to mention Ella and admits that she is his best friend in the E-circle. He also said that Ella has the best skin and would recommend Ponds to her. PS: He said that he'll recommend the product to his future wife, too... CLIP
July 2 - Selina teased Ella in one of their events. In the event they played a game with audience to answer questions related to SHE. For S, Show's name appeared, for H, Jay and Mike. When it's Ella's turn, S said for sure Wu Zun will be there. And sure enough Chun's face suddenly appeared on the big screen. CLIP (starts @ 7:12)
July 14 - Rumuors of Ella having a new boyfriend appeared. Ella has been asked about the news but she refused to respond and just said that they are good friends.
July 17 - Chun was asked about Ella's rumuors during his event. He said he'll congratulate Ella IF the news is true. Chun was worried about Ella when he knew that the guy is accused of cheating. He said if the man is no good, she should watch out. CLIP
23 Aug - During a talk show, Ella described Chun as a durian! AF - ELLA
AF - SHE
Boards - ONLY ELLA (Chinese)
ELLA BAIDU (Chinese)
D-WIKI PAGE

Chun

AF - CHUN
AF - FAHRENHEIT
Wu Chun Fever
CHUN BAIDU (Chinese)
D-WIKI PAGE

CE

CE BAIDU (Chinese)
HYSNSN BAIDU (Chinese)
D-WIKI HYSNSN
Chun Ella Fanatic Craze (English)
ChunElla.cn (Chinese)
5i-CE (Chinese)



❥❥❥

CREDITS. THANKS. RULES



Spoiler



Okay Angels! Go fasten your seatbelts and enjoy the roller coaster ride!!! And don't forget your oath!
Edited by mariane_CEangel, 21 September 2010 - 03:51 AM.