I'm wondering if many of you have scars on your feet left behind by old wounds or blisters, or other reasons, that were
caused by the friction between your skin and your shoes/slippers/sandals/heels
?
I have some and they are
very noticeable
. My newest heels caused me to have more ugly scars left behind. It's not that I wear them everyday it was just last week when I wore the heels for a couple hours on weekends. I observed the girls around me, many of them have nice fair unblemished feet though, unlike mine
I've been a victim of these left-behind-scars caused by shoes since young. i THINK some fade away over the years but the rest still stayed on
That's why I have ugly feet cos the moment I stepped out of my shoes, they're VERY noticeable. My guy friend even joked, saying I was abused. hahaha.
So my concerns are:
- do you have them as frequent as you have new shoes?
- do they lighten or disappear over time? how long did it take?
- what do you do to lighten or make them disappear?
- for those who dont, have you seen other people around you who have scars left behind on their feet?
============================================================================
EDIT: Noo the blisters are not caused by healing wounds that i poked.
ADDED PICS so you guys have a better understanding of what I'm saying, I hope.
Circled are those annoying scars which make my feet ugly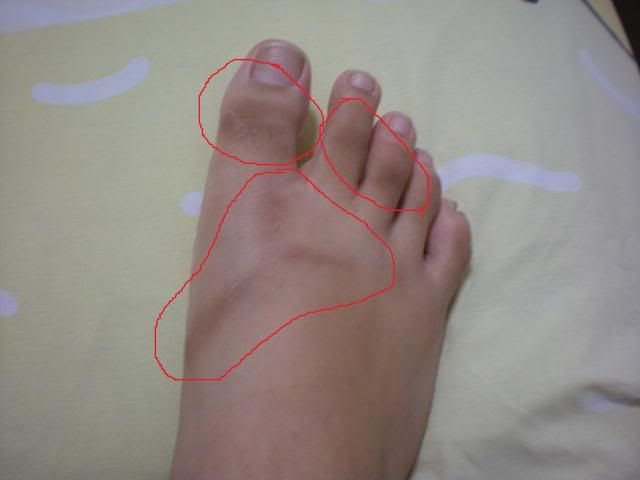 the biggest patch is the one i just had quite recently bcos of the new heels. DAMMIT. it wont go awayyyy. the other foot isn't this bad though.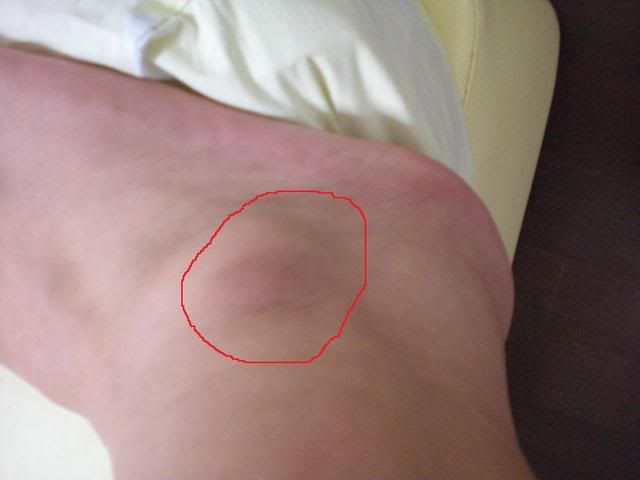 the scars on the side 'bone' were there like a decade ago. when we were in primary/secondary school, we have to sit on the floor cross-legged in the assembly hall in school for everyday for at least half to 2 hours. I guess they formed because of the pressure/weight i asserted unpurposely when i sit cross-legged. SIGH
Edited by mushroomcheese, 23 November 2008 - 02:09 PM.