http://www.brandrepu...-Obama-victory/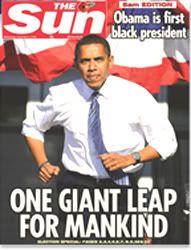 The Sun's front-page is entirely devoted to the result, with a photo of Obama in an action-man-style pose; running, sleeves rolled up and ready for the hard work ahead, framed by a fluttering stars and stripes. The headline,
'One giant leap for mankind'
, is followed by four pages of coverage.
The Daily Mirror shows a stern-looking Obama silhouetted against the American flag under the headline 'GOBAMA!', accompanied by four pages of coverage, while the Daily Star goes with 'Yanks Very Much!'
The Daily Mail devoted the front page of the early edition to the election, but following the result reduced the story to half a page with a long-lense picture of Obama saluting the crowd gathered in Grant Park, Chicago, with the headline: 'Obama takes his place in history'.
The mid-market tabloid has also run a story about a fall in interest rates and a rise in mortgage rates on its front page, with the headline: 'Home Loans: A Slap in the Face'.
The Daily Express runs with 'A New World Dawns' and is the only paper to run a picture of Republican John McCain in addition to one of Obama.
In the broadsheet market, The Times has ten pages of coverage, while its front page proclaims: 'This is our time'. A large picture shows Obama walking across the stage in Grant Park with his children and wife Michelle.
The Independent's headline simply states, 'Mr President', against a picture of a smiling Obama and a bumper 14 pages of election coverage.
The Guardian has plumbed for 'It's President Obama', before it continues with six pages of election coverage. Its website has "Change has come" and a large image and graphic covering its homepage to reflect its extensive online coverage.
The Daily Telegraph has five pages of election coverage, while a sombre headline says: 'A new era as American voters turn out in record numbers'.
The Financial Times opted for a rather dull and functional headline, with 'Americans turn out in huge numbers to vote', alongside just three pages of election coverage. Its FT.com website also simply tells it as it is with: "Obama elected US president".
In the US, only very late editions of the major newspapers are available as the country wakes up to a new president.
The Washington Post had 'The Final Push' on its late edition.The Washingtonpost.com has: "Obama Sweeps to Victory In History-Making Election".
The New York Times predicted a 'A Sea Change for Politics as We Know It.' Its website predicted profound societal change with: "Racial Barrier Falls as Voters Embrace Call for Change".
The Wall Street Journal looked ahead at the next president's biggest challenge, with 'New Economic Ills Will Force Winner's Hand... Calls for Swift Action to Loom Over Next President.' The WSJ.com reports, 'Obama sweeps to historic victory'.
USA Today went with the slightly uninspired and obvious: 'Decision is in voter's hands: US history will be made today by electing McCain or Obama.' Its website has Obama: "Change has come".
Obama himself sent out an email in the early hours of the morning before taking to the stage in Grant Park to deliver a six-minute speech.
Obama supporters who have registered their contact details on his website received the following email:
"I'm about to head to Grant Park to talk to everyone gathered there, but I wanted to write to you first.

We just made history.
And I don't want you to forget how we did it.

You made history every single day during this campaign -- every day you knocked on doors, made a donation, or talked to your family, friends, and neighbors about why you believe it's time for change.

I want to thank all of you who gave your time, talent, and passion to this campaign.
We have a lot of work to do to get our country back on track, and I'll be in touch soon about what comes next.

But I want to be very clear about one thing... All of this happened because of you.

Thank you,

Barack"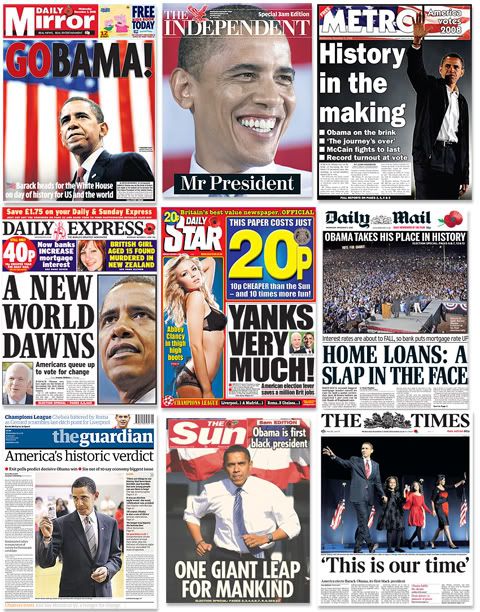 ===========================================================
http://www.saudigaze...D=2008110521187
By Elizabeth A. Kennedy and Tom Odula
KISUMU, Kenya – Africans flocked to all-night parties and set off fireworks and, determined to celebrate a moment in history as Barack Obama tried to become the first black American president.
"Tonight we are not going to sleep," said Valentine Wambi, 23, a student at the University of Nairobi, where hundreds of students were holding an election party in the Kenyan capital Tuesday. "It will be celebrations throughout." In Nairobi's Kibera shantytown, one of the largest slums in Africa, hundreds gathered around a massive bonfire of burning tires. Residents joyfully held up Obama posters, blew whistles and waved American flags.
"We will be here until morning, and we will continue with celebrations if Obama wins," said organizer Sam Ouma, 32.
"If Obama loses I don't know what this crowd will do." Obama, the son of an economist from Kenya, is wildly popular across Africa. Many people hope an Obama presidency will help this vast continent, the poorest in the world.
Some are looking for more U.S. aid to Africa, others simply bask in the glory of a successful black politician with African roots.
"Obama, being partly African, has the moral obligation to intervene in Africa," said Samuel Conteh, managing editor of The New Citizen newspaper in Freetown, Sierra Leone.
"The aspirations of Africans are very high, believing that he will change the social and economic situations of Africans." Those hopes come even after President George W. Bush made a special effort to combat disease and promote democracy in Africa.
Obama was born in Hawaii, where he spent most of his childhood reared by his mother, a white American from Kansas. He barely knew his late father. But that has not stopped
"Obamamania" from sweeping the continent, and particularly Kenya, where his picture adorns billboards and minibuses.
In the western village of Kogelo, where the Democratic candidate's late father was born, police tightened security Tuesday to prevent hordes of media and others from entering the rural homestead of Obama's step-grandmother, Sarah.
Earlier in the day, Sarah Obama attended an open-air religious service where local bishop Ogonyo Ngende offered prayers for the candidate's maternal grandmother, 86-year-old Madelyn Payne Dunham, who died late Sunday in Hawaii.
"I think this is one person he could have wanted to be there and witness him becoming the president of the United States of America," Obama's uncle, Said Obama, said in Kogelo, referring to Dunham.
In Uganda, hundreds of university students booked a hall on campus in the capital, Kampala, to watch the results. "We will feast if Obama wins," said Makerere University student Robert Rutaro.
Kenya's two main newspapers ran Obama stories on the front page. The Standard newspaper also offered a 16-page "Obama Magic Souvenir Pullout" with photos.
The mass daily newspapers in Nigeria, Africa's most-populous nation, were running rare multipage inserts with U.S. electoral coverage. Headlines in The Sun called Obama a "Black Phoenix" and declared in advance of an expected Obama victory: "One Giant Leap for Mankind." – AP (Clarence Roy-Macaulay in Freetown, Sierra Leone, and Godfrey Olukya in Kampala, Uganda contributed to this report.
Edited by lindsay, 05 November 2008 - 01:59 PM.