Sire Ma (馬賽)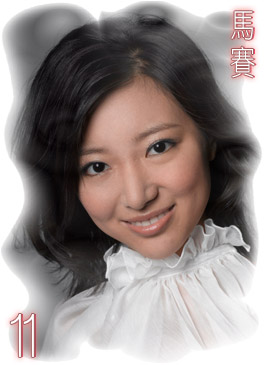 Sire Ma is a contestant who participated in the Miss Hong Kong Pageant 2008. She is the 2nd runner up, and won the Miss Photogenic Award 2008.
Awards:
Miss Hong Kong Pageant 2008: 2nd Runner Up
Miss Hong Kong Pageant 2008: Miss Photogenic
Most Improved TVB Actress Award 2011
Series:
O.L. Supreme as Cheung Mei Kwan (2010) [sitcom]
An Uninvitated Date (2010)
Relic of Emissary as Fu Siu Kiu (2011)
River of Wine as Tsang Yuk Fong (2011)
Men With No Shadows as Kong Wai Mui (2011)
Curse of the Royal Harem as Lok Yan, Princess Sui (2011)
Daddy Good Deeds as Mary (2012)
House of Harmony and Vengenace as Kik Yuen Yuen (2012)
Silver Spoon, Sterling Shackles as Chung Ho Yee (2012)
Bullet Brain as Eva Gam Yee Wah (2013)
Will Power as Nana Lo Siu Lo (2013)
ICAC Investigators (2014)
Information Credits to wikipedia
Edited by foreverleila, 07 June 2014 - 01:22 AM.