WELCOME TO RAYMOND LAM AND TAVIA YEUNG
FUNGYI (峯怡) THREAD PART THREE


Raymond Lam and Tavia Yeung - Fungyi PART 1
Raymond Lam and Tavia Yeung - Fungyi PART 2
Kau Chong and Sau Ning thread
RAYMOND SHOWING HIS LOVE FOR FUNGYI
http://i170.photobuc...yi1tq8fu4xs.jpg
FUNGYI TAKING OVER TVB 2004 CALENDAR (Month of April)
http://i170.photobuc...ngyi/NOECC1.jpg
FUNGYI AGAIN IS LOCATED NEXT TO EACHOTHER FOR TVB 2007 CALENDAR (Month of November)
http://i170.photobuc...ngyi/fyycal.jpg
FUNGYI WINNING MOST IMPROVED ACTOR/ACTRESS IN 2003
http://i170.photobuc...skye/fungyi.jpg
FUNGYI PROFILE
Name: Raymond Lam Fung (林峯)
DOB: December 8, 1979
Birthplace: Xiamen, China
Height: 180 cm
Weight: 70kg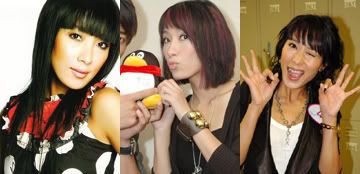 Name: Tavia Yeung Yi (楊怡)
DOB: August 30, 1979
Birthplace: Zhanjiang, China
Height: 166 cm
Weight: 48kg
FUNGYI FACTS
- Tavia Yeung and Raymond Lam are classmates and graduated from TVB's acting in 1999.
- They are coupled in two of TVB's grand production: Twin of Brothers as Lee Sau Ning (Tavia Yeung) and Kau Chong (Raymond Lam) ; Golden Faith as Kiki (Tavia Yeung) and Oscar (Raymond Lam)
- In 2002 when they were filming Eternal Happiness, Tavia Yeung and Raymond Lam were said to have left the set and ended up missing together.
- Raymond and Tavia had won the 'Most Improve Actress/Actor' together in 2003.
- Together, they have starred (as couple or not) in Eternal Happiness, Golden Faith, Twin of Brothers, Yummy Yummy: Food for Life, Face to Fate, Heart of Greed and the upcoming Heart of Greed 2.
CAUGHT

RED

HANDED
(TVB's 40th Anniversary)
At TVB's Award Show, Raymond and Tavia was caught by the camera to be holding hands!!!
Youtube Link:
FUNGYI SITES
TVB'S NEWSFLASH:
http://fungyi-rt.blogspot.com/
SIMPLY.FUNGYI:
http://simplyfungyi.blogspot.com/
FUNGYI FACEBOOK GROUP:
FY Facebook
FUNGYI FILMOGRAPHY
Edited by MAANGOH, 19 May 2008 - 08:53 PM.