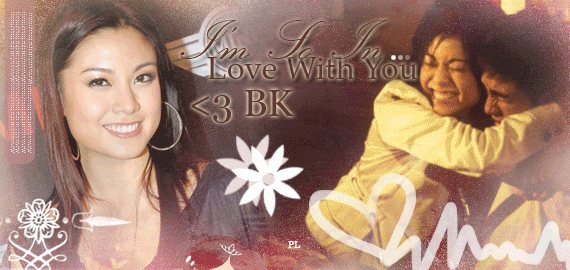 Princess Bernice Liu and Prince Kenneth Ma captured our hearts when they came onscreen together as Man Tai Bo & Koon Ching Wan in

Into Thin Air

. Despite the limited screen time, the couple managed to shine and steal the show. During the airing of the series, the forums became populated with a rush of Bernice-Kenneth fans, who came to be lovingly known as BK fans. Their next pairing onscreen in

The Brink of Law

, as ah Wing and ah Ming, led many fans to declare that despite Kenneth's small guest role, he and Bernice had much more chemistry and loving gestures in the first 8 episodes compared to Bernice and Steven in the entire series.

While the BK-pairing may not house the most numerous nor the most active fanbase, they have managed to leave a permanent mark in our hearts and memories. Without a doubt, BK is always within the top 3 or top 4 lists of the pairings for Bernice and Kenneth individually.

We await anxiously and excitedly for the next time...or maybe even "times" when TVB pairs this gorgeous and charming pair together again!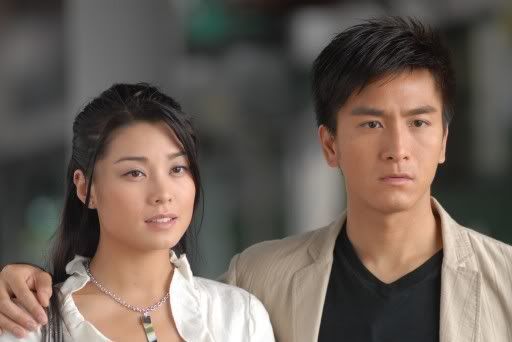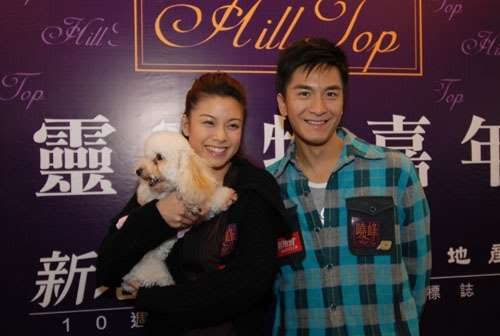 Series/Miniseries They've Been In Together:
Virtues of Harmony
Golden Faith
Survivor's Law
Summer Friends Forever
Into Thin Air
The Brink of Law
Survivor's Law II


Stuff They Have in Common:
Lets see things that they have in common or things that are coincidental

* Both attended: University of British Columbia
- Kenneth majored in Mechanical Engineering & graduated
- Bernice was studying in a

science program

but opted for a marketing and finance course later

*Both can

not

SWIM - despite both of their sporty appearances!
- Bernice admitted this during an Interview by Ebuzz/The Scoop during the shooting of TBOL
(during the scene, BK were the only two artists that did NOT participate in swimming - the script made it so that both did NOT need to swim!)
- Kenneth admitted this at a function for TBOL during an Interview by Ebuzz/ The Scoop

* Both LOVE children!
- Bernice once mentioned she wants 7 kids & likes kids
- Kenneth's always wanted to be a dad and admits he's really good w/ children (his nephews never want to leave when they're playing w/ him!)

* Canadians
- Bernice was born in Canada
- Kenneth moved there after High School (and also met his 1st G/f there!)

* Both LOVE animals!
- Bernice loves her dogs! She feels that it is a huge responsibility to take care of pets and treats them like her children.
- Kenneth admits to having had lots of pets when he was young (Dog, turtles, birds). After his dog passed away and as he grew older and had less time to take care of them, he didn't have pets anymore. He feels that if you don't have time for them, you shouldn't have pets since they are a big responsibility!

* Both are very close to their family
- Bernice & Kenneth both have two siblings
- Bernice has an older sister & younger brother
- Kenneth has two older twin sisters

*Dancing
- Bernice has danced ballet since she was young. H/e, she has worked really hard to dance different, less rigid kinds of dances for TVB performances & Steps
- Kenneth has always been afraid of dancing. H/e for TVB's Strictly Come Dancing II, he has worked very hard to become less stiff and to dance.

* Princess & Prince

- Bernice has been nicknamed "Princess" eversince her first role in VOH1 and she is everyone's Princess
- Kenneth has been referred to as a "Prince" several times as well by magazines and even by his coworkers during Strictly Come Dancing II. He our "Dark Horse Prince"

* Soccer
- Both are fans of Manchester United!

Traits look for in future Hubby/Wifey
* Bernice wants her future Husband to be a dog lover.
* Kenneth preferred girls that are 25-26. He made this comment when he was around 31, saying that he doesn't have the patience or time to handle less mature girls - Bernice was within this age range.
* Kenneth also wants a wife who makes soup and Bernice made soup on Beautiful Cooking!

* Bernice wants a guy who can teach her Chinese and speak to her in English as well. Preferably he can dance - Kenneth is working on it!

Friends
* Kenneth has a lot of female friends while Bernice has a lot male friends
* Kenneth is often friends w/ cheery/chatty and outgoing girls
* Friends in common: Myolie, Raymond, Ron, Bosco, Sammul, Kate, Sharon, Toby, Timmy etc...

Personality Traits & other Characteristics- based on what coworkers say about them
* Easygoing
* Fun
* Down-to-Earth
* Easy to get along with
* Cute
* Have healthy images
* Tall
* Pretty Long fingers
* Can play both mature & young roles, so darn cute!!
* Improving (singing & acting)
* Wonderful Smiles!
Interesting Facts
* Kenneth describes his 1st gf who he met in Canada as being: beautiful, having a wonderful personality, and having long black hair - this is very reminiscent of BK's TBOL characters considering that ah Wing went to UBC and that they met in Canada!
* Kenneth is a super Donald Duck fan, while Bernice (aside from Rupert Bear) likes Mickey & Minnie Mouse. Myolie once stated that she hopes Kenneth finds the right girl for him, and she doesn't have to like Donald Duck, she can like Mickey Mouse! - How coincidental!
What Do the Stars say about the Couple's Compatibility?

* Compatibility Test - Chinese Year, Month, Day and Hour Signs.
Bernice (Horse) + Kenneth (Tiger) = Rating 95%

* Aquarius and Capricorn
When Capricorn and Aquarius join together in a love match,

they tend to bring out the most positive attributes of one another

. Capricorn is a more cautious, rational outlook on life, while Aquarius is insatiable, fostering an idealistic approach to nearly everything. On the surface, they may seem like total opposites, but once these two set eyes on one another, an unbreakable bond is formed.
Pictures:
* Function w/ Dogs
http://img.photobuck...k/_18MB014_.jpg
http://img.photobuck...18113555226.jpg
http://img.photobuck...09081957148.jpg
*ITA screencaps/stills
http://img.photobuck...reak/Img024.jpg
http://img.photobuck...ta01filming.jpg
http://img.photobuck...bbfreak/004.jpg
http://img.photobuck...bbfreak/003.jpg
http://img.photobuck...bbfreak/085.jpg
http://img.photobuck.../normal_249.jpg
http://img.photobuck.../normal_263.jpg
http://img.photobuck...bbfreak/174.jpg
http://img.photobuck...bfreak/km26.jpg
* TBOL
http://img.photobuck...12101447169.jpg
http://img.photobuck.../dsc4218cv1.jpg
http://img.photobuck...ak/DSC_4430.jpg
* ITA Function/Promotion (Radio Show)
Rare BK pic - small, but behind the scenes @ fuction! Cute!
http://berniceliu.or...005/1015/09.jpg
http://berniceliu.or...005/1015/02.jpg
http://img.photobuck...bfreak/27a8.jpg
http://img.photobuck...bfreak/3faa.jpg
http://img.photobuck...bfreak/8f9a.jpg
http://img.photobuck...bfreak/7d93.jpg
http://img.photobuck...bfreak/93e9.jpg
http://img.photobuck...bfreak/59f7.jpg
-Radio show
http://img.photobuck...12095958618.jpg
http://img.photobuck.../kmns046ig6.jpg
* TVB Anniversary/Shows
As Lawyers:
http://img.photobuck..._283e2ef8ed.jpg
http://img.photobuck..._061d5bf8f4.jpg
http://img.photobuck..._034118fd9c.jpg
http://img.photobuck..._af8486db6b.jpg
*Others
TBOL Function
TBOL function screencaps 1
TBOL funciton screencaps 2

Youtube/other videos:

Bernice Kenneth Steven - Breakup (TBOL scenes)
Kenneth Ma & Bernice Liu Love Story (ITA scnes)
Bernice & Kenneth Into Thin Air MV - Follow Through
Super Couple: Kenneth Ma & Bernice Liu ITA 1
Kenneth & Bernice talking - all smiles- @ TBOL function
Related threads:

BK - ITA
Bernice & Kenneth - The Brink of Law
BK- What do you think about this couple?
Edited by bbfreak, 29 January 2009 - 04:40 AM.