SEVENTH GRADE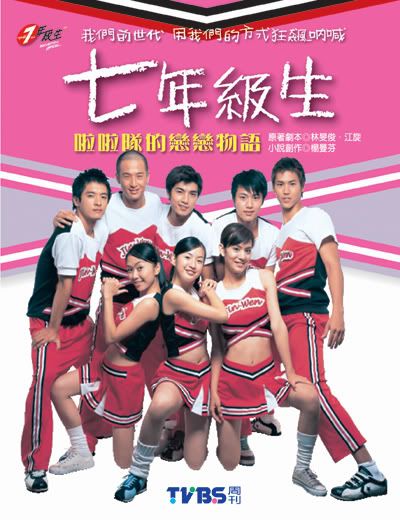 Cast:
Ariel Lin Yi Chen as Wu Ya Li
Kelly Lin as Jing
Lai Zhi Wei as Xie Wei Chang
Michelle Lin Li Wen as Mei
Mike He Jun Xiang as Xu Liu
Sa Sa Zhong Xin Yu as Duan Yi Shuen
Zhang Rui Jia
Zhang Jia Shen
Cast Photo:
郝靜
吳雅莉
郝美
邵奎
徐珮琪
許流杉
謝偉翔
安佑乾
李子威
段怡萱

WHOLE CAST:
Number of Ep
: 22
Short Summary:
Jing Wen cheerleaders is one of the top 3 national high school cheerleading team. A month before the competition, the coach resigned due to the arrogant behaviors from the students. Liu Ming Lin, teacher of Physical Education,was hired to replaced the previous coach. However,the arrogant cheerleading teams relied on favors and refused to accept the instruction from Liu. As a result, they eventually lost out from top three spots.
Meanwhile, in the gymnasium, Principal Jin who was full of energy, danced along with the music. He was extremely impressed with Hao Jing's way of teaching dancing; calm and very patient. After he found out that she was the oldest daughter of his good friend, an idea came to him. He asked Hao Jing to join the cheerleading team as a coach. However, she refused his kind offer. Principal Jin still did not give up. He went to look for Hao Jing's father to help him persuade her.
Wu Ya Li (Ariel), the captain of the cheerleading team and Duan Yi Xuan has decided inorder to recuit new members, they open a draw to choose five special members. On her way, she bumped into someone who pickpocket. The elegant Li severe words caused such a hateful resentment upon the youth. He placed the stolen good on Yi Xuan. Later on when they were paying, Hao Jing was the one that discovered the stolen good is with Yi Xuan. She kindly advise them to come forth and admit their mistakes. Ya Li in surprised, thought Hao Jing was the one trying to fame them which resulting in a conflict between the two.
Review:
The show basically touches on issues our generation of kids face in high school like sexuality: gay/lesbian, the harmful effects of rumours, monetary problems, gangs etc. It's directed by, director DJ Chen. "Seventh Grade" is a Taiwanese nick-name referring to directors born in the 1980s, the seventh decade after the founding of the Chinese republic in 1911.
However, it touches on these issues lightly and seems to give a sense of homophobia. At any rate, the show is a hodgepodge of stereotypes trying to represent present day high school students. While the acting of the older actors are convincing enough, the younger actors in the supporting class have a lot to work on. Only Ariel Lin seemed to shine in her lead character as Yeah Li, but for some reason her character "leaves to America" half way through the series and never comes back, perhaps Ms. Lin realized there were better shows out there to be in or had conflicting ideas with the director, either way, it's a pity her character leaves. Ms. Lin does a great job portraying head strong girls. Kelly Lin plays the head cheerleading coach and while she's pretty, her acting needs a little working on. However, as a whole, the entire cast worked well and judging from the behind the scenes clips it seemed like they had a lot of fun filming this series. It's a pretty short series and the ending makes the audience feel gypped. Mike He is also in this drama although his character is a supporting minor character, he now is a generation idol, but this show is his humble beginning.
However, the one actor that stood out in my mind, 顧瀚昀, plays the "romantic lead" to Ariel Lin's character. His character is called Li Zi Wei - 李子威, shaven head, earring wearing, gangsta looking kid, but is a budding star, and does well in this series. If only he were in more series, because he and Ariel made this series watchable. It's really cute how he "waits" for her to come back. So sweet.
All in all, the movie's acting and script is a 2 out of 5, but I rate the directing 4 out of 5, hence overall, the movie was a 3 out of 5 movie experience.
---------------------------------------------------------------------------------
Have anyone seen this serie? look like most of the cast from love contract. I hopeHe Jun Xiang and Ariel Lin Yi Chen will pair up again in this serie, cus the ending of love contract was suck.
--girly