Gigi Leung 《梁詠琪》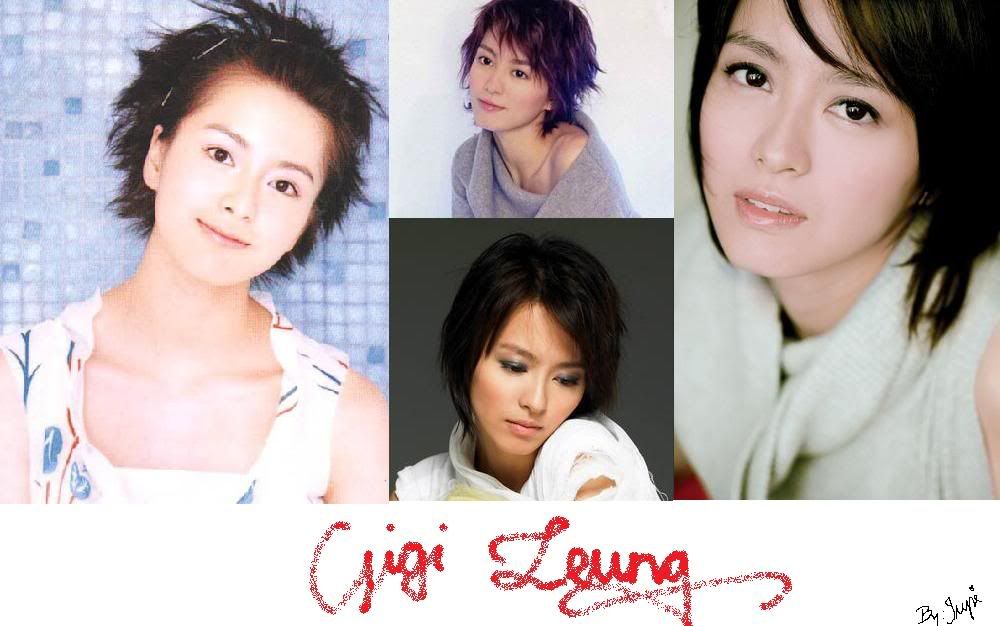 Profile


* Name: 梁詠琪 (traditional) /梁咏琪(simplified)
* Name (Ping Yin):Leung Wing-Kei(Cantonese) / Liáng Yǒngqí (mandarin)
* Name (English): Gigi leung
* Nicknames: Gee, Gou moi (tall girl)
* Profession: Singer / Actress
* Birthdate: March, 25 1976
* Birth Place: Hong Kong, Tsan Yuk Hospital
* Height: 177 cm
* Weight: 56Kg
* Blood Type: O
* Star Sing: Aries
* Chinese zodiac: Dragon
* Entered Entertainment: 1995 (19 years old)
* First on mass media: Poster of City Chain (watches)
* Family Members: Mother, a twin brother Leung Wing Chun 梁詠俊 and five dogs
* High School: Maryknoll Convent School
* College: Hong Kong Polytechnic University School of Design Diploma
* Instruments: Piano (grade 5), Guitar & drums



History
During her study on university she accepted a modelling assignment from a watch company named City Chain and it was this commercial who caught the attention of film director Lee Chi Ngai who cast her in her very first movie (1995), Doctor Mack 《流氓醫生》 starring Tony Leung. The success of the movie brought her a further role in Sixty Million Dollar Man 《百變星君》 starring Stephen Chow which lead her to have another role in Full Throttle 《烈火戰車》 starring Andy Lau and it was this movie she got nominated for Best Newcomer at the Fifteenth Session Of The Hong Kong Film Awards《第十五屆香港電影金像獎》 year 1995.
Entertainment career
Short hair combine with youthfulness and the image like the girl next door is Gigi's image and this was unusual back then and her short hair have been an icon for her since then. Gigi's singing career began in 1996 with her first cantonese debut album Love Myself 《愛自己》(1996) and she was soon loved by Hong Kong and got the best newcomer singer award on TVB JSG 《勁歌金曲》(1996). In 1997 she released her first mandarin debut album Short Hair 《短髮》 (1997) and it turned out to be a big success and it was from this year her popularity rise in both mainland china and Taiwan.
But in 1999 after Gigi had taken part in a musical starring Ekin Cheng, Miriam Yeung and Jordan Chan, she and Ekin developed some feelings for each other and started to date but back then Ekin hadn't publicated the breakup with his girlfriend Maggie Siu which lead for Gigi to be regared as the "third part" and this had a negative impact in her career and leads to a down hill for her career.
However Gigi managed the drought and succeded to have her first own full-scale live concert in 2002 《G for Girl Live 2002》
more will be up soon
FILMOGRAPHY
Driving Miss Wealthy (2004)
Love on the Rocks (2004)
Jiu mei hu (2004)
Sky of Love (2003)
Turn Left, Turn Right (2003)
Mighty Baby (2002)
Fat Choi Spirit (2002)
Roots and Branches (2001)
God of Fist Style (2001)
La Brassiere (2001)
A War Named Desire (2000)
Marooned (2000)
Those Were the Days (2000)
Tempting Heart (1999)
Afraid of Nothing: The Jobless King (1999)
A True Mob Story (1998)
Hitman (1998)
First Love Unlimited (1997)
God of Gamblers 3: The Early Stage (1997)
We're No Bad Guys (1997)
Feel 100% (1996)
Feel 100%... Once More (1996)
The First Option (1996)
Sixty Million Dollar Man (1995)
Full Throttle (1995)
Doctor Mack (1995)
OTHER INFO
Gigi Leung Wing-kei (screen name 梁詠琪) (born March 25, 1976) is a Hong Kong singer/actress. Her birth name is Leung Bik Gee (梁碧芝). Because of asthma in 1983 when she was 7, she changed her name to the present name.
She has a twin brother, Leung Wing Chung.
She is recognized not only as a singer, but a song writer and lyricist as well. She is a member of Warner Music Hong Kong.
Gigi Leung is the spokerperson for many organizations like Unicef, WWF ect.
She also are spokerperson for Olympus camras and the cosmetics Fancl House. Gigi is spokerperson for alot of companies.[/size][/color]
Credits to Jupi
Edited by Jupi, 16 June 2009 - 03:32 PM.