No need to say thanks raniwr and AndLoveYelledNo. i just check out both of them and things keep popping in my mind. here's some more. enjoy reading it.
Found something common between them.
1. both of them attended the floral expo, one after the other.
evidences.
2.Lately mike's been busy saying i've missed the chance of being together with good girls like Ariel and Rainie. why would he mention, Ariel's name? it was in a magazine article, don't remember where i read it.
3. Mike congratulated Ariel for finding a life partner in this video. He said something like "haven't been in contact with her for a long time and i wish her happiness." At first i thought, he answered this question merely coz it was asked. Can't help just gave a positive answer confidently. But the confidence level is a bit different, now he is very much an expert on how to avoid questions, but he still answered.
http://www.youtube.com/watch?v=Dlqp3zrVX6M
credits to the uploader.
so, my conclusion is that things have changed between them. I think, they patched up.
You don't believe me right. Haaaaaaaaaahaaaaaaaa. Have a look at this piece of news. It's just awesome.
Ariel Lin Called to Date for Dinner
Since he entered the ebiz, Mike He had rumoured with Ariel Lin and Rainie Yang from the same drama.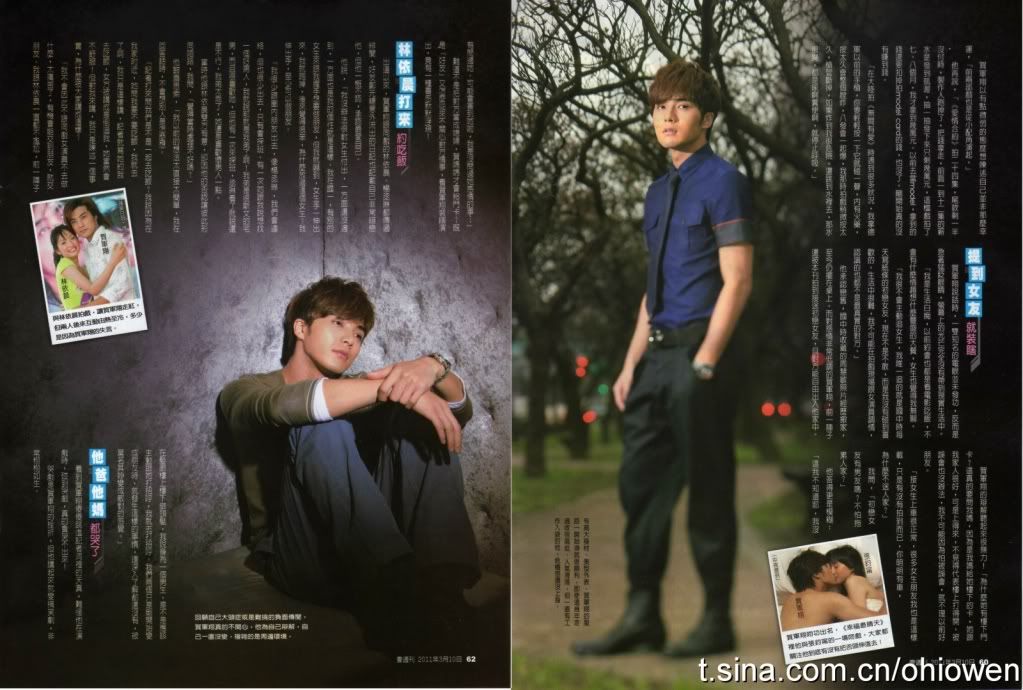 At that time, both Ariel and him was interested, but because of his denial, it made both parties turned into strangers, I asked "Do you think that you handled it badly?"
He frowned his eye brows "I felt that my thoughts were too straighforward and too simple, when I was answering, I would not think of how the other person feel."
"I remember when the reporter called me to ask if we had dinner togther? I said because it was near my house, she called to ask if I wanted to eat dinner together, I just went." I just said this but the reporter wrote that she dated me to eat, it was written that the girl chase me, of course, she would feel uncomfortable! But to me, I just want to explain the fact, why must it be described that way?"
"I won't stop doing anything with the female actresses of the same drama, that is too hard. If I have a chance to make friends, just make friends. I was never awkward with Ariel Lin. Some time ago, we were doing our hair upstairs and downstairs at the salon, I think as a man, should I take the initiative to say hello, I just went to greet. I think it was just that when we were becoming friends, that thing happened, we did not even had the chance to understand each other, and we became enemies like for no reason."
credits to rainbowie.
i am posting only mikiel part, for the full article visit.
http://blog.omy.sg/mikeho/
I felt extremely happy reading this news. i think it's true. what do u guys think? i know mike would never go and say hello and if he said hello,then what's the point of making it public. Won't he feel awkward, when the reporters ask more about their situation. There might be a reason behind it. that's why he's making it public. reason like a collaboration. may be. haahhaaaaaaa. or else why would he explain what happened between them after a decade. well whatever. Once they work together, i think they will blow off the airs between them and be real friends. i hope so. Well ever since, i've started checking their blogs, i knew that Kim is gonna be the string sooner or later which will tie them together. here check out Kim's blog which is full of Mikiel. not actually Mikiel, But mike and ariel.
http://t.sina.com.cn/1793569673