Trading Yesterday
Forewords
They were walking along the edge of the beach. The waves flirting with their feet as they danced back & forth. It was dusk & from the looks of it, they were the only lucky ones to witness it as there was no one else present there. They watched the sun slowly hide away under the blanket of sparkling water to let the moon take it's place instead. Their hands were intertwined.
He turned to look at her. To him, the beauty & allure of the scenery they're surrounded by, has nothing on her doll-like features, porcelain skin & silky, flowing hair fluttering in the wind. He silently watched her watch the setting sun before them with an expression of pure, unadulterated bliss. The light from the retrieving sun traced the contours of her face. The sparkle in her eyes was fuelled with the sunlight. Her white summer dress, danced merrily with the wind.
She turned to him with her megawatt smile in place & at that moment he fell more in love with her. He smiled back at her, glad that her smile, the diamond-like sparkle of her eyes & more importantly, her love, was all for him. To say that he felt like the luckiest man on the planet in that moment would be the understatement of the century.
He turned to face her & she followed suit. He lifted a hand to her face & gently tucked away the few unruly strands of hair that'd dared to splatter themselves all over her face. She took a step towards him to close the gap between them & rested her head on his chest to hide the blush that'd crept it's way up her neck at the intimacy of the moment. She wrapped her arms around him & he, in turn, pulled her in closer, enveloping her in his warmth. She looked up at his his closed eyes & the blissful expression written all over his shuai features & mischief found itself glowing in her eyes.
She pulled away from him & quick as a cat, began running away from him. After he finally opened his eyes to find his arms holding the air instead of her warm form, he looked up, confusion & shock finding their home in his deep eyes. She laughed aloud at the bewildered expression on his face & that very instant, his expression changed to a murderous one.
He chased her for a while until he finally got a firm hold around her slim waist & spun her around. He then picked her up in his arms princess-style & dumped her into the water, utterly startling the latter.
She winced at the pain in her butt for a while & then looked down at her dress, it's pristine whiteness a thing of the past. She turned vengeful eyes to him & the look of pure victory on his face got on her nerves. She got up instantly, her butt ache forgotten in her plan for revenge.
She chased him along the edges of the water until she got a proper hold of his arm & tugged hard at it, turning him to face her. Creeping closer to him as a sign of her submission to his wills & wishes, she knew she'd gotten the better of him this time.
Rather foolishly, he took this as his best chance to kiss her tender, pale-pink lips & wrapped his arms tightly around her so the little minx wouldn't get away again but little did he know that she'd had a plan of her own cooking up in that head of her's.
Just as he thought she'd given in & was closing in for the passionate kiss he was hoping they were about to share, she opened her eyes & mentally prepared herself to follow through with her plan.
He'd already closed his eyes shut --since it was common knowledge that it's rude to stare down the person you're kissing-- & was moving his shy & nervous lips closer to her noticably bolder ones. He would've suspected her intentions had he not been too engrossed in thoughts of the softness & fullness of the very same pair of lips.
That was exactly when an evil glint flashed in her eyes. She lay her hands on his chest & shoved him hard so he'd land in the water --butt-first-- just like she had earlier. His eyes opened as he realized he's falling backwards & the first thing his shock-filled eyes saw was her evil smirk, followed by what he knew was the beginning of a hearty laugh.
She'd have to pay for this.
This would not do. Not one bit.
Just in time, he gripped onto the only thing his hands could find - her arm & held onto it for dear life. Her smiling face turned to one of sheer grimace as she realized how this was gonna end. Damn, she was so close to winning this time but she knew she'd have the rest of her life to spend avenging the ache he caused to her poor lil' derrière. She shut her eyes tight & let her body fall onto his in the salty water.
Her eyes widenned as she felt a pair of lips hungrily tasting hers.
She didn't bother resisting it. She knew she wanted it too. She relaxed against his strong chest. She loved the way his arms held her closely, almost possessively.
She kissed him back, relishing the taste of his lips. The jealous waves were moving back & forth, trying their best to separate the couple but they held onto each other for all the life in their bodies. What started out as a simple kiss, later turned into a passionate one as he slid his waiting tongue into her mouth. They kissed like nothing else mattered at that time for what seemed like an eternity with her petite frame over his. He slowly slid his arm from the nape of her neck to her slim waistline & slipped a hand under her shirt.
That was when it all hit home. Realizing where things were heading, she tensed. He stopped immediately & looked at her with sorry eyes. She rolled herself off of his body & laid on her back, panting on purpose to regain her breath after the seemingly never-ending kiss. He turned his head to face her, panting for the same reason.
"Bao qian [sorry], Cheng Lin.....I didn't mean to............I just got carried away in the moment." Was all she heard him say almost breathlessly. Once recovered, she turned on her side & placed a finger on his lips to stop him from saying anything further. His curious eyes met hers.
"It's okay" her hand now moved from his lips to caress his cheek & his expression visibly softened, "It isn't your fault. You don't have to apologize. I'm not the least bit mad at you. I couldn't even if I'd tried." She let out a small laugh. He smiled back at her, pleased at her reply. She did the same & all was well. Until.......................................................
=====================================================================
Author's Note: For those as imaginatively retarded as I've recently found myself to be, below is how I pictured the beautiful sunset featured in the forewords. I like photography too. This is the sunset view offered at Chowpatty Beach that's situated in the hustling, bustling city of Mumbai, India.
Also, credits to Yumi from ffaddicts.pwnedjoo.net for that fantabulous new poster of mine. Thanks for pouring your sweat & blood into it's making, Yumi. I can't thank you enough!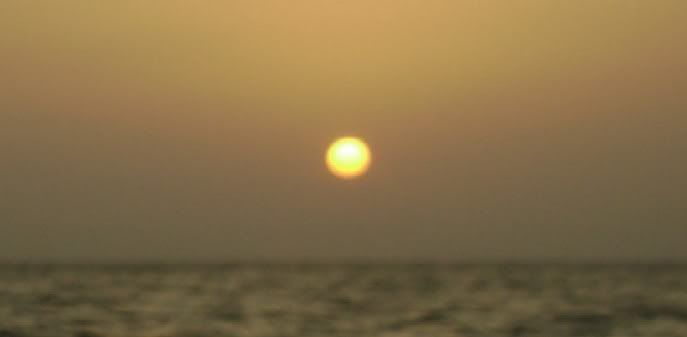 Starring: Rainie Yang, Wong Yau Nam, Ethan Ruan & others
Rainie, Yau Nam, Ethan, Mike