I'm really liking the other 3 songs on her album, 星星的眼淚 The Tears of Stars, 因為什麼 Because of What, and 最美好的未來 The Best of the Future.
The duet between her and Adason has been on repeat for me! Since I like this song so much I decided to translate it. Hopefully it makes sense!
--------------------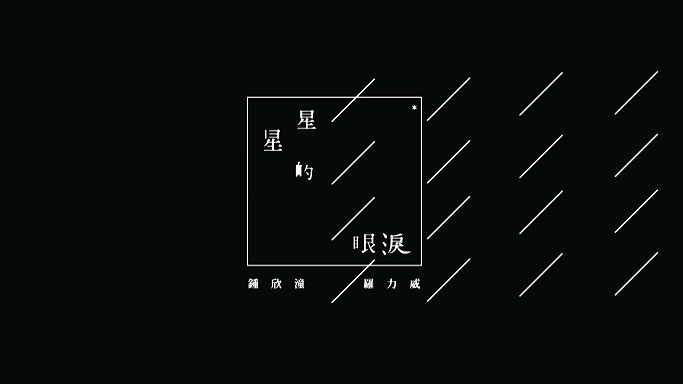 星星的眼淚 The Tears of Stars
鍾欣潼 & 羅力威 Gillian Chung & Adason Lo
威 : 打開收音機然後讓它繼續播放 等待另一邊來的溫暖 這緊張的害我也睡不著 想要的世界 有你圍繞
Turning on the radio and letting it continuously play
Waiting for the other warmth to come besides me
This nervous feeling is making it hard for me to sleep
The world that I want has you around it
鍾 : 我過的每天原來都有你的陪伴 如果哪一天 消失不見 閉上眼能感覺 奇蹟會出現 就算等了幾百天
Every day passes by with you by my side
If one day you disappear
I can feel that a miracle will happen when I close my eyes
Even if I have to wait a few hundred days
*
鍾 : 牽你的手 一起走 到最後
Holding your hand, going together to the end
威 : 把你的手 貼緊我 的胸口
Putting your hand close to my heart
合 : 我從沒有 深深的如此心動 唯有你出現以後
I've never been this deeply moved, until you appeared
鍾 : 愛的時間 會不會 到永遠
Will love's time be forever?
威 : 這刻永遠 停留在 一瞬間
Time will stop forever during this moment
合 : 從今以後 這般深刻的心動 唯有你出現以後 再沒有
From today onward this feeling of being deeply moved, since you've appeared, won't happen again
鍾 : 我多麼希望每天都能在你身邊 我答應不會 消失不見
I really hope that I can be by your side every day, I promise that I won't disappear
威 : 彷彿世上一切 已不重要 只能夠安靜 欣賞
As if everything else in this world isn't important and I can only quietly enjoy
Repeat* (再沒有...) Won't happen again
威 : 任何的記憶能比你更美 因只有你會流 星星的眼淚
Can any other memories be more beautiful than you? Because only you have the tears of the stars
鍾 : 說著你說著
Saying you say
合 : 終於你說愛我
Finally you say you love me
Repeat *
--------------------
Also, in case you guys didn't know, Adason was inspired by the K-Drama "You Who Came From the Stars" to write /compose this song.
Edited by LSH916, 23 June 2014 - 06:30 AM.